Connecting from Windows
Connecting from Windows
If you are connecting to HPC2N from a Windows system, you need to install an ssh client to connect. Several exists, both commercial and free. Here are some of the more common ones:
If you want to be able to open graphical displays (say for opening the Matlab graphical interface), you need an X11 server. These are commonly used:
You also need to transfer files between your own home computer and HPC2N's systems. You need to use a secure protocol, so either sftp or scp will work, but not standard ftp.
On this page we will give brief examples for PuTTy, Cygwin, and Xming.
The simplest is to use PuTTy together with Xming, unless you need a Linux-like environment on your Windows machine.
PuTTY
Download from here.
Get the Zip file with both PuTTY, PSCP, and PSFTP.
Unzip, run putty.exe
Under 'Session' enter the host name. Below it is entered for Abisko (abisko.hpc2n.umu.se). For Kebnekaise it is (kebnekaise.hpc2n.umu.se).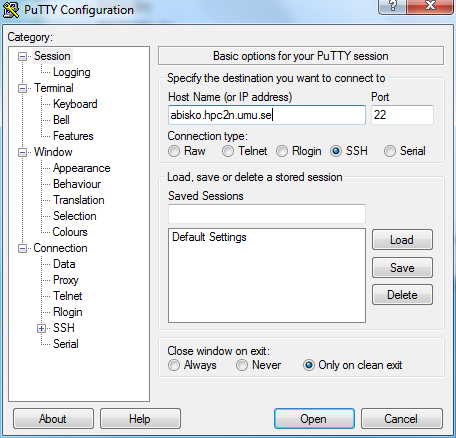 When you click 'Open' you will be prompted for username and password.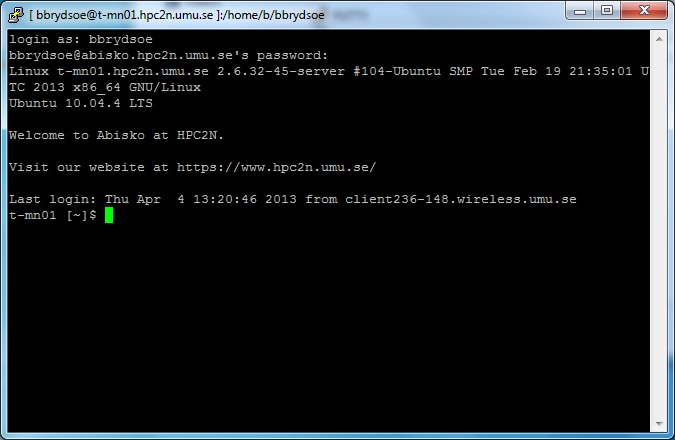 PuTTy and X11 forwarding
If you need to open graphical interfaces from the remote system on your home computer then you need to enable X11 forwarding.
Start PuTTy
On the left side, scroll down to 'Connection' and click to open the tree if it is not opened already
Click to open the 'SSH' subcategory, and then click on 'X11'.
Make sure 'Enable X11 forwarding' is checked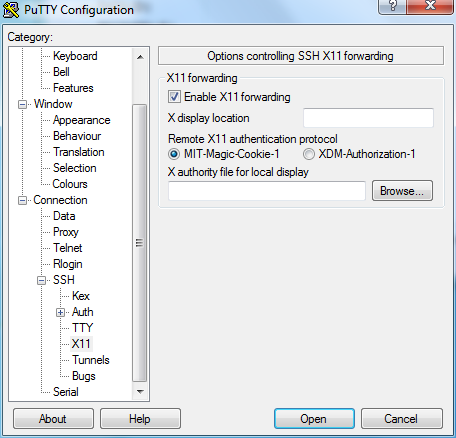 Xming X server
In order to use X11 forwarding in PuTTy (or similar), you need to run Xming before starting PuTTy.
You can now launch (for instance) PuTTY SSH client and enable X11 forwarding as shown earlier on this page.
Cygwin - installation
This is somewhat more involved, and mostly only worth it if you intend to use Cygwin locally on your Windows computer, in order to run a Linux-like environment. A longer description of the installation process can be found on Cygwin's pages.
Download setup.exe from the Cygwin page 
After the initial file downloads, you will get the option to 'Select Package'. Go through and check any you think you would like, as long as you make sure the ones below are selected from X11 category

xorg-server (required, the Cygwin/X X Server)
xinit (required, scripts for starting the X server: xinit, startx, startwin (and a shortcut on the Start Menu to run it), startxdmcp.bat )
xorg-docs (optional, man pages)
X-start-menu-icons (optional, adds icons for X Clients to the Start menu)
You may also select any X client programs you want to use, and any fonts you would like to have available.
You may also want to ensure that the inetutils or openssh packages are selected if you wish to use telnet or ssh connections to run remote X clients.

Under Graphics, it is recommended to select opengl packages.
Install
Cygwin - connecting
The custom XWin startup utility startxwin starts the X server in multiwindow mode. startxwin is included in the xinit package, which you should have installed if you followed the description above.
Run startxwin by:
Using the "XWin Server" shortcut under "Cygwin-X" on the Start Menu
Starting /usr/bin/startxwin in a Cygwin shell, by typing



startxwin
You can get more documentation for

startxwin
by typing

man startxwin
in the Cygwin shell.
Updated:
2017-04-24, 16:54